---
EV800D FPV Goggles W/DVR Diversity Receiver
---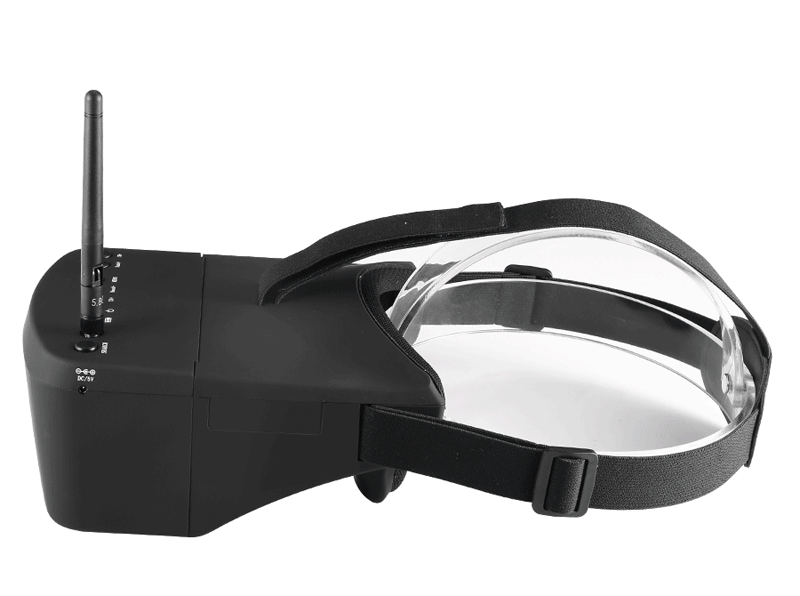 The Eachine VR-D2 pro:
After the Eachine VR-D2 pro, here is the new revision of one popular goggles model from Eachine, the Eachine EV800D.
If for the VR-D2 the changes between the two editions are more concerning the LCD and DVR firmwares, with the EV800D we have major hardware changes versus the EV800.
Now diversity and a builtin DVR are integrated. Paradoxally the EV800D becomes a direct competitors for the VR-D2 Pro…. Let'check this new offer.
I've been using these goggles pretty much exclusively for the last month. As goggles, the EV800D only really stands out to me because of its DVR feature. Most inexpensive goggles, like
Description:
Appearance

Dimension: 180*145*82mm




Weight: 362g without antenna+




Belt : three-way adjustable belt

Specification

Build in DVR




Record up to 720*576px full frame rate video, no frame lost (C10 card required)




Replay in MENU




Require C10 card to record full frame rate

Diversity

Super sensitiveness in 2pcs RX5808 PRO modules




Great performance when two types (Linear and Omni) antennas are used

Display

Screen size: 5.0 inch




Screen resolution: 800*480(No blur after enlarge by the lens)




Screen brightness: 600cd/m2 with special high brightness backlight LED for outdoor FPV




View Angle: 140/120 degree(Horizontal/Vertical)

Lens

3x boost of the video to acquire intense feel-in-there video;




92% transparent rate distort if light;

Battery

Built-in 7.4V/1200mAh battery;




Each battery circle offer around 2hr working time;




11-20V wide range recharging voltage range, typical recharging voltage is 12V




2S (7.4 V) /3S(11.1V) battery as back-up power t to have long working time.
Frequencies (5.8GHz, with RaceBand)
CH
CH 1
CH 2
CH 3
CH 4
CH 5
CH 6
CH 7
CH 8
GROUP
A or FR1

5865 MHZ

5845 MHZ

5825 MHZ

5805 MHZ

5785 MHZ

5765 MHZ

5745 MHZ

5725 MHZ

B or FR2

5733 MHZ

5752 MHZ

5771 MHZ

5790 MHZ

5809 MHZ

5828 MHZ

5847 MHZ

5866 MHZ

C or FR3

5705 MHZ

5685 MHZ

5665 MHZ

5645 MHZ

5885 MHZ

5905 MHZ

5925 MHZ

5945 MHZ

D or FR4

5740 MHZ

5760 MHZ

5780 MHZ

5800 MHZ

5820 MHZ

5840 MHZ

5860 MHZ

5880 MHZ

R or FR5

5658 MHZ

5695 MHZ

5732 MHZ

5769 MHZ

5806 MHZ

5843 MHZ

5880 MHZ

5917 MHZ
Features:
Built-in with super HD DVR record up to 720*576px resolution.

Diversity RaceBand 40ch Auto-Searching.

Two system (Display/Record duo core separated chipsets ) ensure no delay in displaying and no frame lost in recording(please use C10 super speed card to ensure the full frame recording).

Work friendly with pilot-OSD, no block on the important flying OSD information.

Separable design, 5 inch screen can be used as small monitor on radio controller or with tripod.

HD high brightness 5 inch LCD specially tuned for FPV racing.

Diversity function, Built-in super sensitive 5.8GHz 40ch receiver module, with RaceRand.

Advanced auto-searching function and the working frequency show on screen.

Built-in 7.4V 1200mAh battery, each full charge offer 2 hours working time;Wide range re-charge voltage 11-20V.

Accept 2S or 3S batteries as back-up power source, to prolong the working time.




Nice ergonomic design and fit different faces.

Super-wide visible angle up to 82 degree 92% transparent lens adopted, no distort, no blur on the edge of screen.

Light weight 375g with 3.5 hr 2000mAh battery, RTF for any scale racing game;5 Inch 800*480px HD high brightness LCDPackage.

+ 1 x Eachine EV800D

+ 1 x Charger

+ 1 x 5.8G halfplanner antenna with RP-SMA connector

+ 1 x 5.8G RHCP cloverleaf antenna with RP-SMA connector

+ 1 x AVin cable

+ 1 x DCpower cabler to 3S balancer plug cable

+ 1 x Fresnel lens clearning kit

+ 1 x Instruction manual (English).
---
The Good:
Similarly affordable price of the older EV800 kit (only about $10 more expensive).
Easily convert between FPV goggles and an FPV monitor.
Built in DVR make it very easy to record your FPV feed.
DVR recorder does not drop any frames or add latency (make sure you use a class 10 SD card).
40ch Diversity receiver allows you to use multiple antennae to get an excellent signal.
Included is a long range directional patch antenna and an omni-directional cloverleaf antenna.
The integrated receiver is more sensitive than before, giving a much better picture at rate.
Autoscan button makes it super easy and fast to find your FPV channel.
High-quality lens (no distortion) with crisp HD LCD panel.
Monitor has a 1/4 camera screw mount to make it easy to mount onto a tripod.
The Bad:
Fixed focal length lens, however, it has been setup very well as everyone who used this did not have any eyestrain due to the quality lens used.
Smaller capacity battery at 1.2Ah giving about 2hour operation time between charges.
Although this is average the older EV800 had a 2Ah battery giving over 3.5 hours of use per charge.
If you don't use a class 10 or above SD card the monitor corrupts the SD card.
Not the best-balanced headset as all the weight is up front, including the battery.
But since you will only be using this for about 10 minutes a flight its not a massive issue, I am just being picky.
Foam face pads are not removable so you cant clean them (but you can buy some (replacement foam cheaply).
No video input, so you cant use an external receiver with the EV800D Goggle.
The Eachine VR-D2-Pro Unboxed:
Diversity Receiver – Better Reception
A new addition to the EV800D's is the 40 channel diversity receiver with a better FPV signal with directional long range antenna, and an omnidirectional antenna within the kit.
DVR – Record Your FPV Feed:
Integrated DVR makes it easy to record FPV video feed directly into an SD card at 720×568.
this DVR units has no adding extra latency with the EV800's. The latency is minimal, comparable to FPV goggles.
You need to use a class 10 or higher micro-SD-card to ensure your videos are recorded properly without any dropped frames. Remember, when using a class 5 SD card the EV800 unit ended up corrupting the card.
Bright HD Display:
The EV800D has a crisp 800×480 display LCD panel, which is adequate for analogue FPV.
The display shows useful information about your FPV signal strength, FPV channel, band and frequency.  Remember that this overlay is not saved when using the DVR to record the feed.
---
Conclusions:
The EV800D has the best of the older design and provides two features.
The integrated diversity receiver allows much better FPV reception with multiple antenna types.
The DVR records your FPV directly and is particularly useful for nano-quads that may not have an action cam.
If you are shopping for an all round FPV headset that is a stand-alone monitor then the EV800D is a great best buy that should be considered.
---